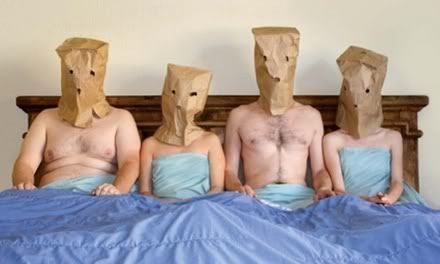 So,
"What is this Baghead all about?" or "Hey, did you see that trailer about the bag on that guys head, and scary cabin film?" is all I'm hearing for the past few weeks. YES! We all know, and this Friday, you NEED to know. Baghead is our pick for
Limited Release Weds.
The Duplass Brothers have always been good to me, and the fests I work with. The connection between writer/director Jay Duplass and his lovely wife (soon to be parents) producer Jen Tracy Duplass is amazing. I was able to spend some time with them in 2004 at the Florida Film Festival. They had to cut their trip early and promised me they wouldn't win any award for their short film,
Scrabble
(yes it was Scrabble then) before we had the jury pick their awards for best shorts. Actor/Writer/Brother Mark Duplass was on tour in Florida that week, with his band (at the time),
Volcano, I'm Still Excited
.
Well, wouldn't you know it. They won GRAND JURY AWARD for the short and it was my duty to find Mark in Florida and get his ass to the Awards Ceremony. It was 1:00am when the films were decided, I knew Mark was 200 miles away, and I swear if it was any other short, I wouldn't have thought twice since I was editing the awards CLIP REEL for the festival at 7am. On no sleep, and if I recall, coffee and I had yet to be introduced, so I called Mark (not expecting anything) and next morning, he promised he would make it.
Well, it worked! He drove the van down from Jacksonville, accepted the award and played Gainesville that night. Best acceptance speech ever, as he called Co-Star/Girlfriend at the time/Now wife Katie from the podium and was all smiles. CONGRATS!
Since then, we have kept in touch, Jay has given some amazing advice, and we have even done Q&A's over cellphones and microphones because they were (and still are) taking over the world.
These guys have come to make some amazing, and some of the most honest shorts Sundance has ever had to offer. Their debut feature
The Puffy Chair
was accepted by so many critics, and fans for the style of filmmaking
they
are used to…camera (Jay), audio (Jen), actors (Mark and Katie) = FILM. They have brought some amazing talent with them through the years with the short
The Intervention
and then new friends and even parents in
The Puffy Chair
. Picked up by Roadside Attraction at Sundance, The Duplass Brothers and wives have proved this style of filmmaking (minimal budget, working with friends, and amazing ideas), works on SO MANY levels with their new "horror" film
Baghead
. Sony Picture Classics picked the film earlier this year at Sundance, and the film has been on EVERYONES Myspace's, Facebooks, and now their
Baghead Has A Posse
style of marketing is genius. Put a bag on your head, go around, take pics of what Baghead is doing, upload and POST THEM! Try it.
I love these kids, and we at Before You Submit are EXTREMELY happy for EVERYTHING they have done. So this week's Limited Release Weds. is for them, the fans, and everyone who is understanding how and what they are doing in filmmaking. I'm not saying grabbing a camera and friends will land you festivals, trust me, we watch DOZENS of films like this a week here at BEFORE YOU SUBMIT. But it's the "what matters" content of these films that being accepted and that's a start.
Thanks guys!
B.Quain
BYS IS WATCHING
CITIES and THEATERS
NEW YORK NY AMC EMPIRE 25 (Times Square)
NEW YORK NY SUNSHINE CINEMA
LOS ANGELES CA SUNSET 5
PASADENA CA LAEMMLE'S PLAYHOUSE 7
SANTA MONICA CA MONICA FOUR
IRVINE CA UNIVERSITY TOWN CTR 6 CINE
PORTLAND OR CLINTON STREET THEATER
PORTLAND OR LIVING ROOM THEATERS
A RARE LITTLE GEM!
The video for Volcano I'm Still Excited's "In Green"
Directed by Jay Duplass